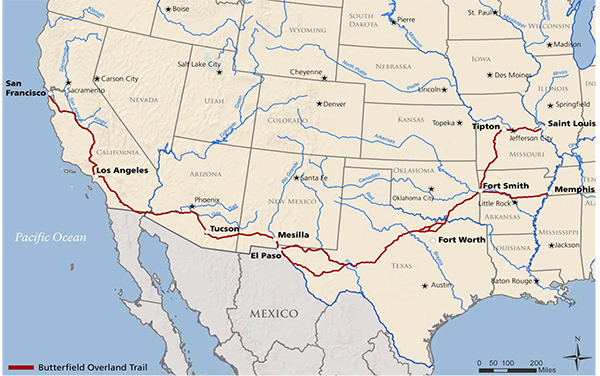 Marilyn Heifner
Heritage Trail Partners Board of Directors
2002
A regional bike and pedestrian plan for Northwest Arkansas was conceived by the Northwest Arkansas Regional Planning Commission. The "backbone" of the trail was originally planned to be the Butterfield Overland Mail route. This concept was expanded to include the Trail of Tears and Civil War troop movements.
All governmental units (all cities and both counties) in Washington and Benton counties adopted the regional bike and pedestrian plan.
2003
June 17, 2003
The idea of getting the Butterfield Overland Mail route included as a member of the National Historic Trails system was floated. It was decided to contact U. S. senators and representatives to study putting the Butterfield Route on the national list. National Trail legislation refers to the Butterfield Overland Mail route. We thought it would be a slam dunk.
2004
January 21, 2004
Incorporation papers for Heritage Trail Partners were submitted. Incorporators were Scott Mashburn, Jon Loftin, and Marilyn Heifner. Approved February 3, 2004.
February 26, 2004
Heritage Trail Partners nominated and elected the following officers:
President – Marilyn Heifner
First Vice President – Scott Mashburn
Second Vice President – John McLarty
Secretary – Jim Lukens
Treasurer – Glenn Jones
March 25, 2004
Congressman John Boozman's office was contacted to sponsor legislation to have Butterfield Overland Mail route included in the National Trails System.
2005
March 16, 2005
Heritage Trail Partners held its first annual meeting.
Projects planned for 2005:
1. National Historic Trails Designation for Butterfield
2. Brochure for Butterfield Stage Route through Northwest Arkansas
2006
January 18, 2006
Congressman John Boozman visited Heritage Trail Partners meeting and autographed a Heritage Trail sign. Congressman Boozman pledged his support for National Trail designation of the Butterfield.
February 15, 2006
Local journalist Kirby Sanders agreed to design a map of the Butterfield Overland Mail route through Benton, Washington, Crawford, and Sebastian counties.
March 15, 2006
National Park Services director Fran Mainella and Congressman Boozman met with Heritage Trail Partners board members John McLarty, John Scott, and Glenn Jones. Mainella was impressed with the level of local involvement and advised Boozman to introduce legislation to include the Butterfield Overland Mail route as a National Historic Trail.
May 17, 2006
Butterfield Overland Mail route brochure developed; 20,000 printed. Distributed to chambers of commerce, museums, and state tourist information centers.
July 19, 2006
Heritage Trail Partners sign installed at Old Missouri Road and Highway 265, beginning a project to mark the Butterfield route through Fayetteville. Letter received from Joe Shipman, District 4 Engineer with the Arkansas Highway and Transportation Department, approving locations for placement of signs in Fayetteville. Twenty route markers were placed in Fayetteville.
July 28, 2006
Congressman Boozman introduced HR.5980, the Butterfield Overland Trail Study Act, for a resource study along the "Ox-Bow Route" of the Butterfield Overland Trail in Missouri, Arkansas, Oklahoma, Texas, New Mexico, Arizona, and California.
September 17-18, 2006
Third annual Butterfield Commemorative Ride was scheduled to go from Fayetteville to Avoca. Jacci Perry was trail boss. There were 13 riders on the first day. The ride was cut short by rain, thunder, and lightening on the second day.
September 20, 2006
Marilyn Heifner went to Washington, D. C., and testified before a House committee regarding HR.5980 legislation (passage of the Butterfield Overland Trail legislation), and also met with Arkansas Senator Mark Pryor (supportive of trails legislation) and Philip Moore (Congressman Boozman's aide).
2007
HR.3998, America's Historical and Natural Legacy Study Act, which included a special resource study of the Butterfield Ox-Bow route, was introduced.
2008
Butterfield Trail reenactment was held October 3-5, which included a Friday night event at Pea Ridge National Military Park and a Sunday afternoon event at Fitzgerald Station, then owned by Jay and Sarah Berryman. Seventy Girl Scouts and their families were treated to Dutch-oven cooking, historical programs, old-time games, and stagecoach and carriage rides.
Casey Gill, curator of the Wells Fargo Museum, traveled the Butterfield route and made stops in Northwest Arkansas at Pea Ridge National Military Park, Lowell Elementary School, and Fitzgerald Station.
Arkansas Parks and Tourism Commission approved the formation of a state heritage trail system based on all Indian removal routes, Butterfield stage route, and Civil War troop movements. Representative Lindsley Armstrong Smith introduced the bill to the state legislature. Passed.
Maggie Lemmerman, senior aide to Congressman Boozman, left that position. Zachary Hartman is the new contact in Congressman Boozman's office.
Butterfield Overland Stage Trail Driving Atlas in Missouri and Arkansas, authored by Kirby Sanders, was published by Heritage Trail Partners.
Articles on the Butterfield appeared in True West, Rural Arkansas, and the Wells Fargo blog.
2009
HR.146, Omnibus Public Land Management Act of 2009, was signed into law by President Barack Obama. The bill included a study for Butterfield to determine if it was eligible to be included in National Historic Trails system.
Kirby Sanders presented research on Hanger's stage route and Springdale stage routes, additions to the Encyclopedia of Arkansas entry on the Butterfield Overland Mail Company, and the 1858 railroad route from St. Louis to Tipton, Missouri.
2010
The National Historic Trails Division of the National Parks Service held a kickoff meeting for the Butterfield Trail Study in Fayetteville on March 2. (Though the study was approved by the House and Senate in 2009, budget appropriations for the National Park Service to conduct the study were not available until 2010.)
Butterfield Overland Mail route interpretive panel dedication was held along an original section of the road segment used by Butterfield near present-day Lake Fayetteville. Approximately 70 attended, including Mayor Lioneld Jordan, State Representative Lindsley Smith, and National Park Service representatives. Fayetteville Parks employees had cleaned the original road segment adjacent to the interpretive panel. Wells Fargo donated two wheel-shaped benches which were installed at the interpretive panel site.
2011
Kirby Sanders continued work on the documentation of the Butterfield route including specific work under contract with the National Park Service.
The Northwest Arkansas Regional Planning Commission's Bicycle and Pedestrian Plan incorporated Heritage Trail crossings into the Razorback Regional Greenway.
Heritage Trail Partners via Marilyn Heifner co-hosted the Oregon-California Trails Association annual conference in Fayetteville, October 29-30.
2012
Continued edits on volume 2 of the Butterfield Driving Guide, which follows the route through Oklahoma, Texas, and Arizona.
2013
Heritage Trail Partners sponsored a public program on the history of the Butterfield Overland Mail.
Butterfield Overland Mail interpretive panel was dedicated near the Telegraph Road (an original segment of road used by Butterfield) within Pea Ridge National Military Park.
2014
The Butterfield Overland Mail route study by the National Park Service was completed. Their decision: the Butterfield is worthy of National Trail designation.
From 2014 through 2019, Marilyn Heifner was in contact with now-Senator Boozman's office. Jimmy Harris was Boozman's contact at this time. Harris reported no progress. Heifner learned that he was only part-time while getting his law degree and did little to forward the Butterfield National Trail legislation. The Butterfield dropped off Senator Boozman's radar. (When Heifner visited with Senator Boozman in 2019, he indicated to her he thought the trail legislation had been passed.)
2020
Bill Martin, the Oregon-California Trails Association (OCTA) past president and liaison for the Partnership for the National Trails System, met with McKensie McKernan, senior aide to Senator Boozman, in Boozman's office. McKernan asked Heritage Trail Partners (HTP) to try and acquire at least one Democratic co-sponsor for the legislation. HTP contacted all senators in each of the eight states where the Butterfield route is found.
National Park Service (NPS) comments on proposed Butterfield legislation were forwarded to McKernan, Joe Brown, and Jace Motley in Senator Boozman's office.
Senator Boozman's office reached out to NPS to get clarification on what language should be in legislation.
Bill Martin met with Senator Boozman's staff, Arizona Senators Krysten Sinema and Martha McSally, Senator Martin Heinrich of New Mexico, and Senator John Cornyn of Texas.
In August, Senator Boozman introduced National Historic Trail designation legislation for the Butterfield, co-sponsored by Senators Tom Cotton (R-AR), Martha McSally (R-AZ), Krysten Sinema (D-AZ) and John Cornym (R-TX). This bill died in the Committee on Energy and Natural Resources.
2022
In February, Senator Boozman sent a letter to the Committee on Energy and Natural Resources (ENR) asking for a hearing on the Butterfield Trail legislation.
In February, Senator Boozman filed S-3519, co-sponsored by Senators Tom Cotton (R-AR), Martin Heinrich (D-NM), John Cornyn (R-TX), and Roy Blunt (R-MO).
In March, Marilyn Heifner was notified that Joe Brown was no longer with Senator Boozman's office. Andrew Kelley was the new contact. Kelley indicated that they were still working with the ENR on a potential hearing and were shopping House members on a potential House companion.
On May 11, the Butterfield was included in an ENR legislative hearing and was declared eligible to be in a markup (possibly late June or July).
THE REST IS HISTORY! On December 22, we were notified that the Butterfield legislation had passed both houses and the bill was headed to President Joe Biden for his signature.